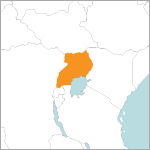 The multisectoral nutrition agenda in Uganda includes plans to improve access and utilization of nutrition services, improve dietary diversity, protect households from shocks and vulnerabilities, improve the policy and legal frameworks for nutrition, and increase and sustain a national commitment to improve nutrition in the country. These goals are outlined in the Uganda Nutrition Action Plan 2011–2016, which aims to increase the momentum of the country's ongoing efforts to improve nutrition. 
FANTA supports the Government of Uganda by:
Collaborating with stakeholders to develop and implement a national nutrition advocacy strategy.

Strengthening District Nutrition Coordination Committees' capacity to plan, budget, advocate for, and monitor nutrition activities.

Developing nutrition assessment, counseling, and support (NACS) training materials.

Training nutrition service providers.

Strengthening the health system's implementation of nutrition services.

Managing and implementing the Uganda Nutrition Fellowship to develop skilled nutrition practitioners.


Developing nutrition programming to address Uganda's social development goals and agricultural challenges and opportunities.

Collaborating with the Uganda Partnership for HIV-Free Survival to accelerate adoption of the 2010 World Health Organization guidelines on prevention of mother-to-child transmission of HIV and on HIV and infant feeding.