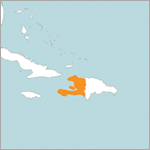 For more than a decade, FANTA provided technical assistance in Haiti in the areas of food security early warning systems, nutrition and HIV, nutrition advocacy, and maternal nutrition. Specifically we worked to:
Strengthen USAID implementing partner capacity in program monitoring and planning, including food security early warning systems. This work is summarized in a 2014 report that provides promising practices and lessons learned from a pilot program-level early warning and response system.
Prepare the Haiti Ministry of Public Health and Population to integrate nutrition assessment, counseling, and support (NACS) into HIV programming. This work resulted in technical guidance and a training manual to facilitate integration.
Increase national support for nutrition in Haiti by using a nutrition advocacy tool to illustrate the benefits of improved nutrition and the consequences if nutrition is not improved. This led to the development of recommendations for government policy and programming to address malnutrition and a draft National Nutrition Advocacy Plan.  
Strengthen nutrition services for women by developing counseling materials that will be used by health facility workers and nutrition promoters. The materials focused on dietary diversity; health visits; healthy weight gain during pregnancy; and iodized salt, iron folate, and vitamin A supplementation during the postpartum period.