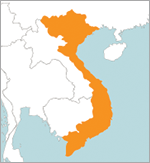 In 2013, HIV was the leading cause of death and heavy disease burden in Vietnam. Because nutrition is an important element in the comprehensive care and treatment of people living with HIV, FANTA worked in Vietnam from 2008 to 2014 to integrate nutrition assessment, counseling, and support (NACS) into HIV services in priority provinces for the U.S. President's Emergency Plan for AIDS Relief (PEPFAR). In addition, from 2013­ to 2014, FANTA worked to strengthen management of malnutrition among children under 5 years of age in Dak Lak Province, where levels of wasting and stunting were well above the national average. FANTA's assistance resulted in the following achievements:
Strengthened the capacity of government health care providers, PEPFAR/Vietnam, and PEPFAR Partners in the area of nutrition and HIV
Conducted and published the results of three assessments that resulted in recommendations to strengthen nutrition and HIV programming and policy
In Dak Lak Province, trained health care providers in NACS—from March to September 2014, more than 2,500 children were screened for malnutrition and nearly 100 were treated
A provincial health manager stated that with FANTA support, "people working in the HIV sector have increased awareness of the importance of nutrition and know how to assess, counsel, and support their clients." More details can be found in our report on activities in Vietnam from 2008 to 2014.