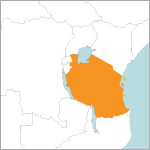 The Government of Tanzania has shown a long-standing concern for its citizens' nutrition through several multisectoral initiatives. These include creation of the Tanzania Food and Nutrition Centre (TFNC); enactment of a national nutrition policy; the signing of a Comprehensive Africa Agriculture Development Programme compact with the African Union; and incorporation of the nutrition assessment, counseling, and support (NACS) approach into its National HIV Care, Treatment, and Support Programme. With support from FANTA and other partners, the TFNC has trained staff from regional and district hospitals to provide NACS training to frontline health care providers. FANTA is working closely with the Office of the Prime Minister and other partners to strengthen the country's social and political commitment to improving nutrition.
FANTA's activities in support of the Government of Tanzania include:
Working with U.S. President's Emergency Plan for AIDS Relief (PEPFAR)/Tanzania Partners to support NACS integration and scale-up in health care facilities and community-based health services.

Updating the National Guidelines on Nutrition Care and Support for People Living with HIV based on recent evidence and global guidance, and realigning the 1992 National Food and Nutrition Policy with the 2011 National Nutrition Strategy.

Leading a collaboration of stakeholders to develop a nutrition advocacy plan and materials. 

Collaborating with the Ministry of Health and Social Welfare and implementing partners to accelerate adoption of the 2010 WHO guidelines on prevention of mother-to-child transmission of HIV and on HIV and infant feeding, as part of the national Elimination of Mother-to-Child Transmission of HIV Plan 2012−2015 and the Tanzania Partnership for HIV-Free Survival.

Coordinating with the Feed the Future-funded Mwanzo Bora Nutrition Project to develop community nutrition materials and train community service providers.

Strengthening national coordination on nutrition by participating in the Development Partners Group for Nutrition.

Reviewing national policies and strategies to consolidate nutrition efforts across sectors.