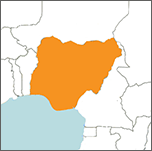 Recognizing that nutrition is a vital component in health, the Nigerian Nutrition Division in the Federal Ministry of Health (FMOH) worked to strengthen and scale up its nutrition activities with FANTA's technical assistance. Building on the existing strong system for delivering nutrition services for mothers and children, FANTA launched an initiative to support the FMOH and state and local governments to integrate nutrition assessment, counseling, and support (NACS) into four health facilities in Rivers State--two primary health care facilities and two secondary health facilities. FANTA also worked with the Rivers State Ministry of Health to conduct monthly coaching and mentoring visits and build the capacity of healthcare workers who were trained in NACS. In addition, FANTA built the capacity of nutrition champions in advocacy and resource mobilization to ensure government and community ownership of the nutrition interventions in Rivers State and in selected health facilities.
FANTA also supported the National Agency for Control of AIDS and the National AIDS/STIs Control Programme to revise the National Care and Support Guidelines for People Living with HIV to include NACS and quality improvement (QI). In addition, the project collaborated with the Livelihoods and Food Security Technical Assistance (LIFT II) project to strengthen the referral network for people living with HIV by promoting community–facility linkages, and with the Strengthening Integrated Delivery of HIV/AIDS Services Project (SIDHAS) to strengthen the QI process and to ensure that NACS data are collected and analyzed.
FANTA's activities in Nigeria included:
Strengthening the capacity of the FMOH and state and local government agencies to integrate NACS into health services delivery in general, and specifically into care and treatment services for people living with HIV, tuberculosis, and other infectious diseases.
Supporting the FMOH's adaptation of the NACS training materials to the local context.
Supporting the establishment of a NACS demonstration and learning site in Rivers State to inform eventual scale-up of NACS in Nigeria.
Strengthening health care providers' technical capacity to integrate nutrition into health services using the NACS approach in selected pilot sites in Rivers State.
Providing needed anthropometric equipment and materials to the selected health facilities to ensure accurate assessment and effective communication with clients about their nutritional status and ways to improve it.
Working with the Rivers State Ministry of Health and SIDHAS to provide coaching and supportive supervision to NACS service providers, identify and train nutrition champions, and develop a monitoring and evaluation plan to collect NACS data.
A brief describes how coverage and integration of NACS was improved at the four Rivers State demonstration sites, and how Nigeria's overall health system was strengthened as a result of FANTA's work.