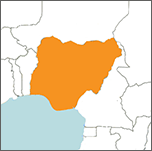 Recognizing that nutrition is a vital component in health, the Nigerian Nutrition Division in the Federal Ministry of Health (FMOH) is working to strengthen and scale up nutrition activities with FANTA's assistance. Building on the existing strong system for delivering nutrition services for mothers and children, FANTA recently launched an initiative to support the FMOH and state and local governments to integrate nutrition assessment, counseling, and support (NACS) into four health facilities in Rivers State. Collaboration with the FHI 360 Strengthening Integrated Delivery of HIV/AIDS Services (SIDHAS) Project enables a streamlined approach to integrating NACS to ensure that all adolescents and adults benefit from nutrition services. FANTA's activities in Nigeria include:
Strengthening the capacity of the FMOH and state and local government agencies to integrate NACS into health services delivery in general, and specifically into care and treatment services for people living with HIV, TB, and other infectious diseases.
Supporting the FMOH's adaptation of the NACS training materials to the local context.
Strengthening health care providers' technical capacity to integrate nutrition into health services using the NACS approach in selected pilot sites in Rivers State.
Providing needed anthropometric equipment and materials to the selected health facilities to ensure accurate assessment and effective communication with clients about their nutritional status and ways to improve it.
Working with the Rivers State Ministry of Health and SIDHAS to provide coaching and supportive supervision to NACS service providers, identify and train nutrition champions, and develop a monitoring and evaluation plan to collect NACS data.
Supporting the establishment of a NACS demonstration and learning site in Rivers State to inform eventual scale-up of NACS in Nigeria.
A new brief describes how coverage and integration of NACS was improved at the four demonstration sites, and how the Nigeria's overall health system was strengthened as a result of FANTA's work.