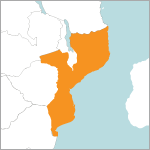 Preventing malnutrition is a key priority of the Government of Mozambique. The Government has taken a multifaceted approach to providing critical nutrition services to the general population, with a special focus on children in the first 2 years of life, women of reproductive age before and during pregnancy and lactation, adolescent girls 10–19 years of age, and people living with HIV and/or tuberculosis. As a signatory of the Scaling Up Nutrition movement, the national government ratified high-level commitments and has enacted a multisectoral action plan that engages various ministries in the effort to reduce chronic undernutrition and significantly improve maternal and child survival.
To assist Mozambique in reaching its nutrition goals, FANTA's activities included:
Learn more about FANTA's work in Mozambique by reading the success stories and the final report.