Fighting malnutrition is a key priority of the Government of Mozambique. Acute and chronic malnutrition combined affects more than 40% of children in Mozambique and is linked to the deaths of about 45% of children under 5 years of age. Malnutrition also takes an economic toll: Children with malnutrition face reduced cognitive capacity, which leads to poorer school performance and lower economic productivity throughout their lifetimes.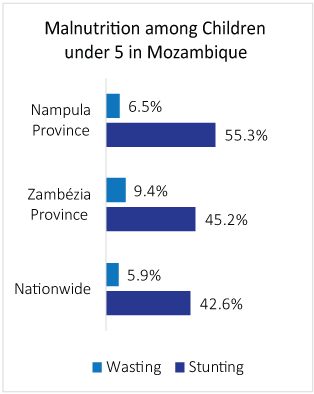 The National Nutrition Rehabilitation Program (Programa da Reabilitação Nutricional or PRN) is a key component of the Government of Mozambique's efforts to identify and treat malnutrition in both children and adults. FANTA is helping the government improve the program's quality and effectiveness, starting with two priority provinces with a large proportion of the population affected by malnutrition: Nampula and Zambézia. Specifically, FANTA is supporting the provincial health offices in each province, the district health offices in four focus districts (Mecuburi and Angoche in Nampula Province and Nicoadala and Alto Molócuè in Zambézia Province), and selected health facilities in the districts.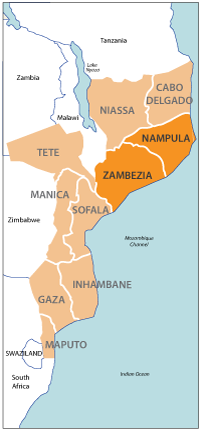 After exploring the main challenges facing the PRN with the Ministry of Health and other partners, FANTA targeted three areas for its work in the provinces: management of PRN and implementation of PRN protocols; supply chain management of nutrition products; and the quality, reporting, and analysis of PRN data. FANTA is using a multipronged approach that includes: health facility assessments and gap analyses to tailor support for specific needs; on-the-job and in-service training; technical assistance to help local authorities conduct supportive supervision; and participation in technical working groups to strengthen collaboration among nutrition partners in Mozambique, including U.S. President's Emergency Plan for AIDS Relief (PEPFAR) clinical partners.
Below are snapshots of FANTA's efforts to strengthen PRN implementation in Nampula and Zambézia.