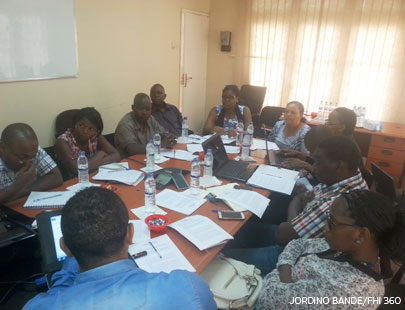 Collaboration is vital to maximizing limited resources for improving nutrition. One of FANTA's key objectives in Mozambique's Nampula and Zambézia provinces is to help the provincial health offices bring health officials, implementing partners, and other stakeholders together to better coordinate nutrition efforts and strengthen PRN implementation. The project helped the provincial health offices establish provincial PRN technical working groups to serve as a regular forum for strengthening collaboration; fostering communication; and sharing challenges, successes, and lessons. 
In Nampula Province, the PRN technical working group provided technical support to ensure that antiretroviral therapy and tuberculosis clinics integrate nutrition screening, diagnosis, and treatment into its services. The group also discussed common implementation challenges and shared potential solutions, such as conducting more frequent and focused health facility visits to improve anthropometric measurements, classification of nutritional status, appropriate diagnosis and treatment, and collection and reporting of monthly PRN data—processes that are vital to monitoring areas of poor performance and improving the program.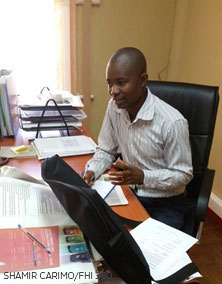 In Zambézia Province, the PRN technical working group took steps to strengthen health facilities' reporting of PRN data after identifying gaps in the submission of PRN monthly reports. The group learned that some health facilities in the province did not submit reports simply because they lacked the proper PRN reporting forms. Group members agreed to help reproduce and distribute the forms to ensure that the health facilities in their respective areas had enough copies to submit thorough, timely reports.
Malverno Sueleque (pictured left), a Nutrition Focal Point for Nampula Provincial Health Office, found the Nampula group to be helpful. "Each [group] member identifies several problems, and these problems are discussed by all and concrete solutions are proposed," he said.  "The members contribute toward the same objective, which is to improve PRN implementation." He noted that his group also serves as an "alarm" that highlights issues he needs to address in his own work.