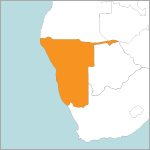 From 2008 to 2015, FANTA worked with the Ministry of Health and Social Services and other partners to integrate nutrition assessment, counseling, and support (NACS) into health care services in the country's 13 regions and to improve the quality of NACS service delivery. In collaboration with the Ministry of Health and Social Services (MOHSS), the U.S. Government, other donor partners, and civil society organizations, FANTA focused on strengthening country ownership and sustainability of NACS service delivery for key populations in four regions with a high prevalence of HIV and malnutrition and high percentages of orphans and vulnerable children.
FANTA's activities in Namibia included:
Improving the quality of and access to nutrition services, with a focus on sustainability through system strengthening. FANTA worked with the MOHSS to develop a national NACS training package, job aids, counseling materials, and national NACS data collection, reporting, and supportive supervision tools for facility- and community-based health care providers. FANTA also supported the development of national operational guidelines for NACS for people living with HIV.
Scaling up and strengthening NACS service integration into HIV and maternal and child health and nutrition services at the district level. FANTA worked with the MOHSS to train regional nutrition managers, NACS trainers, and facility-based health care providers from the 13 regions and to train nearly 200 community-based health care providers in nutrition screening, referral, and follow-up. As a result, more than 200,000 clients received nutrition assessment, and more than 4,000 were treated for acute malnutrition.
Enhancing the evidence base for NACS learning and monitoring. This included supporting a 2012 multi-partner review of the quality of NACS service implementation in six regions to inform institutionalization of NACS as a standard of care in all health facilities.
Organizing the printing of NACS materials for the MOHSS to support and improve the provision of NACS services in the country. This included a health worker training book, NACS participant training manual, inpatient booklet and NACS bundle (forms).