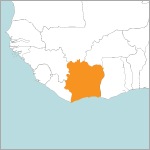 Recognizing the critical role that nutrition can play in effective responses to infectious diseases, the Government of Côte d'Ivoire works to strengthen nutrition and food interventions for people living with HIV, tuberculosis patients, orphans and vulnerable children, and other at-risk groups. In 2013, the country joined the Scaling Up Nutrition movement and adopted a multisectoral approach to improving nutrition. FANTA works closely with the Ministry of Health and AIDS Control and the Ministry of the Family, Women, and Social Affairs to support Côte d'Ivoire's national programs that promote integrated nutrition programs and services.  
FANTA's activities in Côte d'Ivoire include:
Strengthening the capacity of the Ministry of Health and AIDS Control to integrate nutrition assessment, counseling, and support (NACS) into HIV and tuberculosis services by developing training, tools, and guidelines, as well as providing coaching to service providers.
Integrating NACS indicators into Côte d'Ivoire's health management information system and integrating quality improvement into NACS services.
Evaluating the implementation, acceptability, and performance of NACS services to inform the scale-up of NACS across the country. 
Strengthening the nutrition care of orphans and vulnerable children by strengthening the capacity of service providers to promote optimal feeding practices for HIV-exposed infants and young children, and improving the capacity of social services centers to provide nutrition services at the community level.
Improving the link between facility-based NACS services and food security and livelihood support services and strengthening referrals between community social centers and NACS facilities.