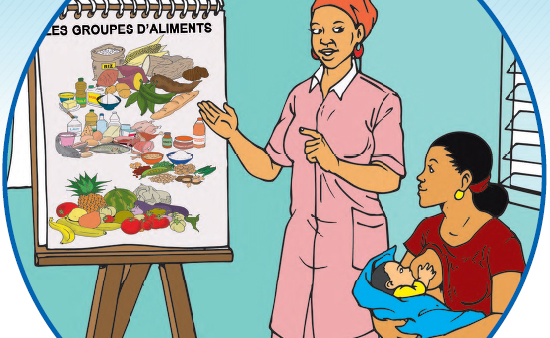 FANTA, in collaboration with UNICEF, developed a French-language counseling flipchart that provides health care providers and community workers a set of visual aids and messages to enhance and facilitate interpersonal communication on a variety of nutrition topics. 
The flipchart covers 15 themes: foods groups, nutrition care and support for pregnant and lactating women, exclusive breastfeeding, recommended breastfeeding practices, successful breastfeeding in the workplace, solving  common breastfeeding problems, infant feeding in the context of HIV, complementary feeding for infants 6 months and older, nutrition assessment and growth monitoring, feeding the sick (child and adult),  nutritional care and support for people living with HIV, preventing micronutrient deficiency, preventing overnutrition, food hygiene and healthy lifestyle. 
Each theme is presented on one or more double-sided counseling cards with key messages on one side, and a picture representing the messages on the other. 
The flipchart also includes a brief user's guide and the key steps of effective counseling. 
The Action Essentielles en Nutrition Plus flipchart (Essential Nutrition Actions Plus) is an integrated nutrition counseling package based on the National Protocol on Integrated Management of Acute Malnutrition and the National Nutrition Policy.