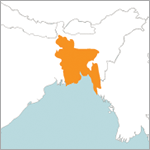 Currently FANTA is working in Bangladesh to support the NGO Health Services Delivery Project (NHSDP). We are providing technical assistance to further develop and expand current nutrition services, improve quality of service provision, and increase coverage of services.
Specific activities include:
Supporting nutrition training for service providers for improved delivery of nutrition services

Strengthening quality improvement and quality assurance through the development of tools and through supportive supervision

Improving monitoring and evaluation to strengthen nutrition service delivery

Assessing improvements in NHSDP's nutrition service delivery following enhanced activities 
Previously, between 2010–2014, FANTA worked with the Government of Bangladesh and development partners to create a road map for investment in food security, nutrition, and agriculture, known as the Country Investment Plan. FANTA also assisted the Government of Bangladesh in formulating the Health, Population, and Nutrition Sector Development Program, which included a new operational plan for mainstreaming and scaling up nutrition services throughout the country. Our work focused on:
Advocating for increased resources for nutrition at the national level. FANTA used PROFILES to estimate the economic and health consequences for Bangladesh of not adequately dealing with malnutrition over the 2011–2021 period. These estimates were then used at meetings with nutrition stakeholders and the media to convey the impact of nutrition on health, education, and development.
Integrating maternal and child nutrition into USAID-funded health programs. FANTA trained more than 2,900 service providers in infant and young child feeding and hygiene practices. We also completed a clinic readiness assessment to determine the extent to which infant and young child feeding training was integrated into nutrition service delivery and to identify challenges, gaps, and next steps.
Strengthening the capacity of government institutions in nutrition. FANTA provided technical assistance to the Government of Bangladesh to strengthen its capacity to integrate nutrition into its health programs by supporting the distribution of iron/folic acid tablets to postpartum mothers, developing a basic nutrition training curriculum, and mapping the country's nutrition interventions and projects.
FANTA's full report on these elements of our work from 2010–2014 in Bangladesh provides more detail about our achievements, results, addressed challenges over the 4-year time period and recommendations for nutrition-related programming.