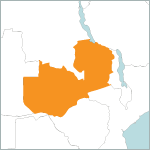 From 2013 to 2017, FANTA collaborated with the Government of Zambia, partners, and other nutrition stakeholders to integrate nutrition assessment, counseling, and support (NACS) into public health policy and service delivery at the national and district levels, and strengthen the enabling environment for NACS. Focusing on people with HIV and tuberculosis, pregnant and lactating women, and orphans and vulnerable children in the Kitwe District, FANTA and partner projects LIFT, ASSIST, Thrive, as well as PCI, worked on the Kitwe NACS Acceleration activity, which informed scale-up of NACS to other.
FANTA's technical assistance to Zambia included:
FANTA's activities in Zambia, results, lessons learned, and recommendations are detailed in a final report covering the 2013 – 2017 period.