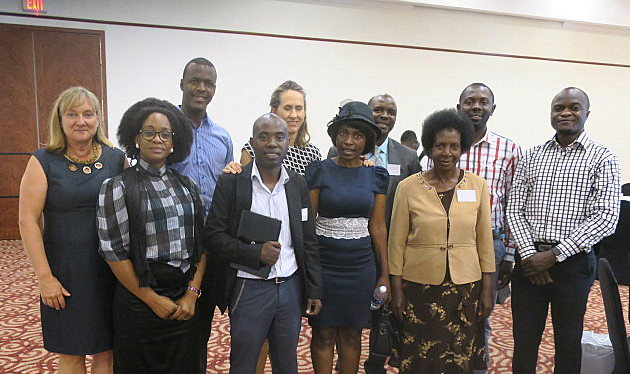 Since 2008, FANTA has supported the Government of Zambia in integrating nutrition care into health care delivery. Between 2013 and 2017, FANTA collaborated with the Ministry of Health (MOH), the U.S. Agency for International Development (USAID), and implementing partners to strengthen the integration of nutrition assessment, counseling and support (NACS) into public health policy and services for people with HIV and tuberculosis, pregnant and lactating women, and orphans and vulnerable children at the national and district levels.
On September 14, 2017, FANTA hosted an event in Lusaka—attended by around 40 participants from USAID, the Ministry of Health, implementing partners, the media, and other organizations—to highlight the project's achievements in Zambia, share challenges and lessons learned, and explore next steps for NACS in Zambia. At the event, FANTA Project Director Sandra Remancus provided an overview of FANTA's activities at the national, regional, district, and community levels in Zambia since 2008, which included:
Collaborating on national guidelines on nutrition and HIV
Providing anthropometric equipment for 43 health facilities
Helping develop NACS training materials and job aids
Supporting NACS training of health care providers and community volunteers
Facilitating NACS mentoring and supportive supervision
Strengthening nutrition data collection and reporting
Supporting nutrition advocacy through PROFILES 
Ms. Remancus stressed the importance of the national, provincial, and district health structures' contribution to the success of NACS integration. She also noted some key results from the project's work in Kitwe and Mkushi, the two focus districts, including:
223,997 health facility clients received nutrition assessment
82 percent of those assessed received nutrition counseling 
70 percent (9,642) of malnourished clients received specialized food products 
1,170 community members were screened for and counseled on malnutrition
Dr. Patricia Bobo, who represented the Permanent Secretary of the Ministry of Health at the event, acknowledged FANTA's contribution to strengthening food security and nutrition policies and programs in Zambia and expressed the Permanent Secretary's confidence that all improvements made in NACS services would not be lost. Jessica Healey, a Deputy Director in USAID/Zambia's Office of Health, Population, Nutrition, and HIV, said USAID/Zambia is committed to continuing its support for NACS using lessons learned from FANTA.
FANTA's 2013–2017 NACS activities in Zambia, results, lessons learned, and recommendations are detailed in a report.