February 2014
Last October, FANTA began preparing to accelerate the integration of nutrition assessment, counseling, and support (NACS) into health care services in Kitwe District. Over the next 2 years, FANTA and other USAID-supported partners will build the capacity of the Government of Zambia to implement NACS and expand these nutrition services to other districts.
Accelerating the Integration of NACS
In 2013, FANTA began supporting a NACS acceleration plan in Kitwe District, in collaboration with the ASSIST, LIFT, and Thrive projects and PCI/Zambia. The primary goal of the plan is to build the capacity of district authorities to plan, coordinate, and implement NACS services in 34 of the district's government and private sector health care facilities, with strong links to community-based services. FANTA will work with partners at the district level to accelerate the integration of NACS into the health system by strengthening government supervision, monitoring, and evaluation. FANTA will also build the capacity of facility-based health care providers and community volunteers to provide nutrition screening and assessment, treatment of malnutrition, and follow-up. The plan focuses on continuous quality improvement, learning, and adaptation to boost nutrition service demand, uptake, and sustainability. Partners will capture lessons from this experience to inform similar efforts by local governments in other districts.  
The Kitwe NACS acceleration plan was launched during a strategic planning meeting held in October 2013 and will be implemented over the next 2 years with technical assistance from FANTA, with these efforts led by Zambia Project Manager Dr. Earnest Muyunda.
Adding Value to Health Care Services
Groups targeted to receive NACS services in Kitwe District include pregnant women, children, and people with infectious diseases, such as tuberculosis and HIV. As part of NACS services, clients will have their weight, height, and other clinical assessments taken and will receive counseling on treatment adherence; dietary quality; weight recovery; and water, sanitation, and hygiene practices. Clients who are found to be clinically malnourished will receive a prescription for specialized food products and will be referred to other nutrition services.
"The NACS approach should be able to succeed and become part of routine health services to prevent, identify, and treat malnutrition," said Dr. Elwyn Chomba, Permanent Secretary, Ministry of Community Development, Mother and Child Health, at the opening of the strategic planning meeting. "Nutrition assessment, counseling, and support, though supported by partners, is a government activity which all staff in our health facilities should embrace as a service which is meant to add value to the care and treatment provided to people of all age groups."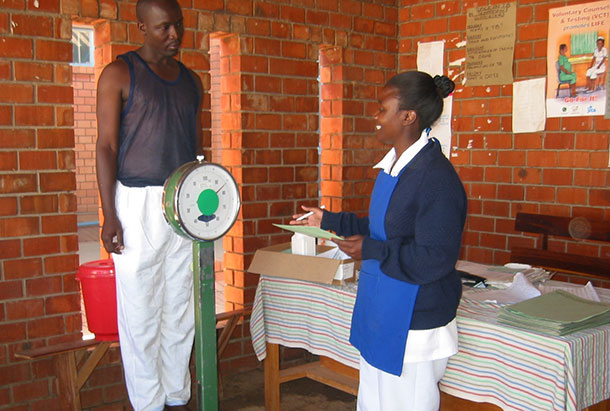 A client is weighed in a Zambia clinic as part of nutrition assessment.
Photo credit: Wendy Hammond, 2012