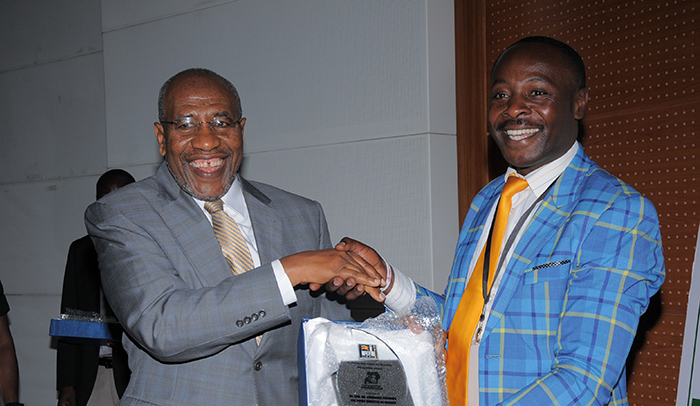 The Right Honorable Prime Minister of Uganda (left) being recognized as a champion in supporting Uganda multi-sectoral nutrition implementation.
Uganda officially launched the Parliamentary Forum on Nutrition (PFN) on June 20, 2017, at the Office of the President Conference Hall. Among those attending the launch were members of Parliament, key development partners, and local government leadership. Rt. Hon. Rebecca Kadaga, the Speaker of the Parliament of Uganda, opened the forum. The keynote speaker was the Ugandan Prime Minister, the Rt. Hon. Ruhakana Rugunda. The Rt. Hon. Kadaga, the Rt. Hon. Rugunda, and Ms. Christine Gwatudde Kintu, Permanent Secretary and head of the Nutrition Coordination Secretariat in the Office of the Prime Minister (OPM) were praised for their leadership and support of the implementation of the multi-sectoral Uganda Nutrition Action Plan.
FANTA and USAID's Advocacy for Better Health (ABH), in collaboration with the Office of the Prime Minister, USAID's Strengthening Partnerships, Results and Innovations in Nutrition Globally (SPRING) project, Communication for Healthy Communities (CHC) project, World Vision Uganda, and UNICEF, were key partners central to establishing the PFN.
The PFN is an advocacy forum created to champion nutrition issues in Parliament and to generate greater Parliamentary awareness, discussion, and commitment to promote nutrition and increase resource appropriation for nutrition. The PFN provides an opportunity for members of Parliament and development partners to discuss nutrition priorities and resource prioritization and allocation. The establishment of the PFN is an example of Parliament's commitment to support and promote the implementation of ongoing nutrition activities in line with the multi-sectoral approach to the Uganda Nutrition Action Plan and the Uganda Nutrition Advocacy and Communication Strategy.