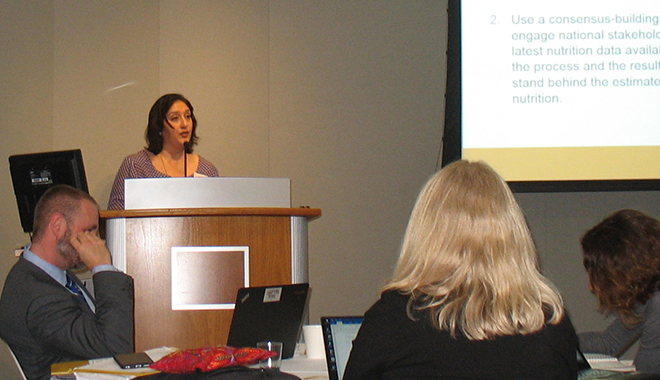 The Sackler Institute for Nutrition Science, at the New York Academy of Science and the Micronutrient Forum, held the workshop, "Evidence-based tools for decision-making in nutrition programs," on April 27–28, 2017. The workshop was focused on supporting the adoption and utilization of three types of tools: (1) Tools whose main purpose is advocacy and decision making (LiST, PROFILES, and COD); (2) Tools used to determine/optimize interventions (IMAPP, Optifood, and MINIMOD); and (3) Tools whose purpose is to optimize cost-benefits of a mix of interventions (MINIMOD, Optima Nutrition, and Activity Based Costing (ABC).
Kavita Sethuraman and Monica Woldt represented FANTA at the workshop. Kavita presented on PROFILES and ABC. Monica was a member of the facilitated panel discussion, "Perspectives from policy makers and implementers," which considered the tools being discussed during the workshop.
Other workshop participants included representatives from the Bill & Melinda Gates Foundation, Ethiopia's Federal Ministry of Health, Iowa State University, Johns Hopkins University, London School of Hygiene and Tropical Medicine, Scaling Up Nutrition, Tanzania Food and Nutrition Centre, The World Bank, the World Food Program, and the University of California, Davis.
The workshop was held in New York City, at World Trade Center 7, 40th floor, 250 Greenwich Street.