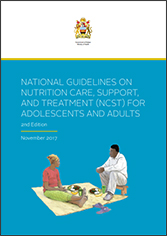 Integrating high-quality nutrition care, support, and treatment (NCST) services into service delivery platforms for HIV and tuberculosis requires providing healthcare workers with guidelines, job aids, and monitoring tools to facilitate effective prevention and treatment of malnutrition. To meet this need, FANTA and partners have updated Malawi's national NCST guidelines to include the latest international guidance on nutrition. The second edition of the guidelines provides the required minimum standards for delivering a comprehensive set of nutrition interventions aimed at preventing and managing undernutrition and overnutrition in adolescents and adults at various service delivery points in health facilities and communities. The guidelines are expected to help service providers improve the quality of nutrition service delivery and health outcomes of people living with HIV, TB patients, and other patients presenting at health facilities with various forms of illness. The update aligns with Malawi's 2016 guidelines for community-based management of acute malnutrition, the third edition of the guidelines on clinical management of HIV in children and adults, and the five-year operational plan.
Recognizing the critical role that nutrition plays in the care and treatment of HIV and tuberculosis (TB), FANTA provided financial and technical support to the Malawi Ministry of Health to develop the National Nutrition Care, Support, and Treatment Operational Plan 2018–2022. The plan provides a framework for improving access and coverage of quality nutrition services for adolescents, adults living with HIV, and TB clients. 
FANTA also developed new counseling cards, training materials, and tools for monitoring and evaluation.
Resources