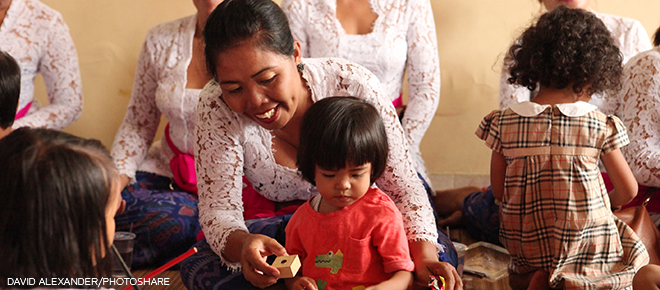 Indonesia continues to have widely prevalent nutrition problems that affect several key segments of the population, especially adolescents, women, and children. These persistent nutrition problems are holding Indonesia back from achieving its health and economic development objectives. Indonesia's updated Minimum Service Standards (MSS) define health services that must be provided to citizens in primary and secondary health centers at the district level. For provinces and districts to achieve the target indicators set for the MSS for health, improving nutrition is key.
FANTA has produced two technical briefs for the Government of Indonesia to orient those accountable for local health service delivery (district health administrators or DHAs) and those who oversee DHAs (heads of districts and governors) on why nutrition is important to achieve the MSS district health indicators.  
The briefs provide guidance on nutrition interventions needed to improve health and nutrition outcomes and achieve the MSS district health indicators for women of reproductive age (15–49 years), pregnant women, women during delivery, newborn babies (up to 28 days), and children under 5.
Indonesia Minimum Service Standards for Nutrition: Technical Brief for District Health Administrators (English; Bahasa)