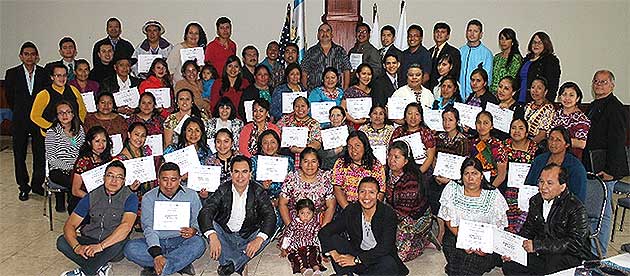 On July 9, a half-day event was held in Quetzaltenango Guatemala to mark the completion of the Maternal-Child Nutrition Distance Learning Course by 66 participants. The course, which was developed by USAID/Guatemala in collaboration with the Health and Education Policy Project, FANTA, and INCAP, was completed by representatives of several civil society organizations in the Western Highlands of the country, specifically, the Indigenous Women and Men's Networks for Health, Education, and Nutrition (known as REDMISAR and REDHOSEN, respectively) and the Reproductive Health Observatory (known as OSAR). The purpose of the training is to strengthen knowledge and practices on nutrition-related interventions to reduce stunting, which is particularly high in Guatemala and is a priority for the Guatemalan government as well as for the support being provided by USAID.
The maternal-child nutrition training began in January when FANTA, in collaboration with INCAP, provided assistance to train 14 facilitators from the Health and Education Policy Project. These facilitators were then responsible for giving the course to representatives from civil society in the five prioritized departments of the Western Highlands and Alta Verapaz. In each department 10–12 participants took the course remotely and on a monthly basis participants met with the department facilitator as a group to review the lessons and ask questions.   
During the closing event in July, the 66 participants (15 of which were youth between 18–25 years of age) were recognized and given diplomas. A USAID Health Officer, Dr. Baudilio Lopez, noted at the event that Guatemala's current nutrition situation can change with the proactive participation of civil society, including youth, who are key to strengthening local governance mechanisms to promote change. Dr. Erik Janowsky, Director of USAID's Health and Education Office, shared with participants the support being provided by the U.S. Government to reduce poverty and chronic malnutrition and discussed the role of youth as key actors to improve conditions in their municipalities, particularly related to advocating for improvement of health and nutrition services to reduce stunting. Furthermore, Dr. Janowsky encouraged the youth to interact with coordinating entities in the prioritized departments.
Two other speakers highlighted the importance of civil society and advocacy to affect change. Hilda Rivera, a facilitator from San Marcos, who discussed the process and joint learning that took place between facilitators and participants, reiterated the importance of the existing mechanisms to effectively advocate on behalf of nutrition. Juan Alberto Cutz, a participant from Quetzaltenango, highlighted the need to share key information on nutrition with local groups and emphasized the importance of civil society organizations having access to such information to enable them to successfully fulfill their roles.
In addition to the participants honored at the event, others are benefitting from the course as it is currently being provided by the Ministry of Health to approximately 500 additional participants. The course is available on the FANTA website.