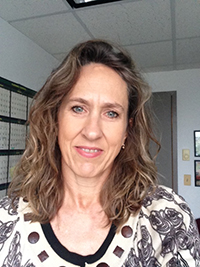 Technical Advisor, Social and Behavior Change Communication
Washington, D.C.
Dr. Mary Packard has been working in international health and development for over 20 years with expertise in social and behavior change communications along with experience in organizational development, project design and evaluation, gender, and sexual and reproductive health.  
Mary, what do you do at FANTA?
I provide technical guidance and support on SBCC for our country programs, which involves developing practical tools and approaches to introduce NACS and to improve nutrition counseling and community engagement through formative research, field-testing visual aids, training & support.
What has been your proudest moment on the FANTA project?
Proudest moment was when my country colleagues grasped new SBC principles and methods so well that they were able to successfully facilitate a brand new training curriculum, never having seen it delivered before. Watching them do it was great, but hearing them–and the participants—articulate afterwards how much they learned and appreciated the opportunity for growth made it even better!