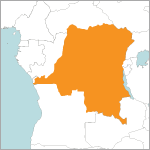 The Government of the Democratic Republic of Congo (DRC) has focused its fight against HIV on implementing a national, comprehensive health care program that strengthens and broadens linkages between prevention, care and support, and treatment services. Efforts have also included providing nutrition support for orphans and vulnerable children, increasing screening of people living with HIV for tuberculosis, and providing limited home-based care services. FANTA supports government efforts to provide comprehensive nutrition support to people living with HIV using the nutrition assessment, counseling, and support (NACS) approach. 
Specifically, FANTA's activities in the DRC include:
Strengthening the technical capacity of the National Nutrition Program Office and other Ministry of Health central services to coordinate and supervise NACS as part of routine HIV and tuberculosis health service delivery.
Finalizing and disseminating revised national guidelines for integrating nutrition into HIV services.
Working with the FHI 360/Livelihood and Food Security Technical Assistance Project (LIFT) to improve links from clinical to community services by including access to economic strengthening, livelihood, and food security services in NACS implementation.
Working with University Research Corporation to improve the quality of NACS.