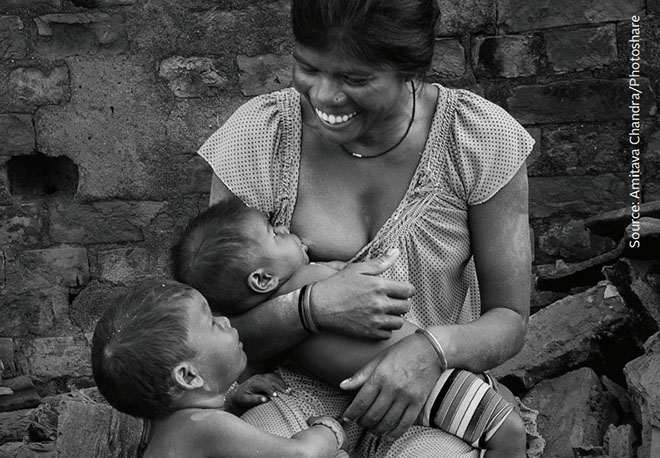 Sustaining Breastfeeding Together is this year's theme for World Breastfeeding Week. From August 1–7, 2017, health care professionals, advocates, activists, and decision makers around the world will focus on the importance of breastfeeding to early childhood development.
FANTA trains health care workers and has supported countries to develop counseling materials to support optimal breastfeeding practices by mothers to improve maternal and child survival. FANTA conducted research and developed global advocacy tools to increase knowledge and understanding about the benefits of optimal breastfeeding.  Below are some FANTA resources on breastfeeding and its benefits for maternal and child health nutrition.
To raise awareness of the importance of optimal breastfeeding practices for preventing child deaths among country governments, FANTA has updated PROFILES, its nutrition advocacy tool, to include a model that estimates the number of children under 2 whose lives would be saved with improved breastfeeding practices.
LAM is an effective contraceptive method based on the natural period of infertility after childbirth. In Madagascar, where the use of LAM, other modern contraceptive methods, and exclusive breastfeeding is low among postpartum women, FANTA conducted a literature review and a formative research study whose results now inform efforts to promote the use of LAM and exclusive breastfeeding in USAID/Madagascar programs.
The 2016 USAID Breastfeeding Symposium, hosted by USAID's Office of Maternal and Child Health and Nutrition and Office of Food for Peace, in partnership with FANTA and the Alive & Thrive Project, brought experts together to consider the latest evidence on and programmatic approaches to breastfeeding. Of particular interest was what progress was being made to meet the Sustainable Development Goals. 
Developed in collaboration with INCAP and the USAID/Nutri-Salud Project, the Spanish-language nutrition course Diplomado Nutrición Materno-Infantil en los Primeros 1,000 Días de Vida builds the capacity of frontline health workers to support nutrition services for mothers and children, from pregnancy through a child's second birthday—known as the first 1,000 days. One of the course's eight units is dedicated to breastfeeding.
During an assessment of the Baby Friendly Hospital Initiative, the Mozambique Ministry of Health and FANTA found that health care workers in Mozambique needed clear guidance on how to counsel HIV-positive mothers on the best infant and young child feeding practices, including specific guidance on breastfeeding based on the serostatus of the mother and baby.