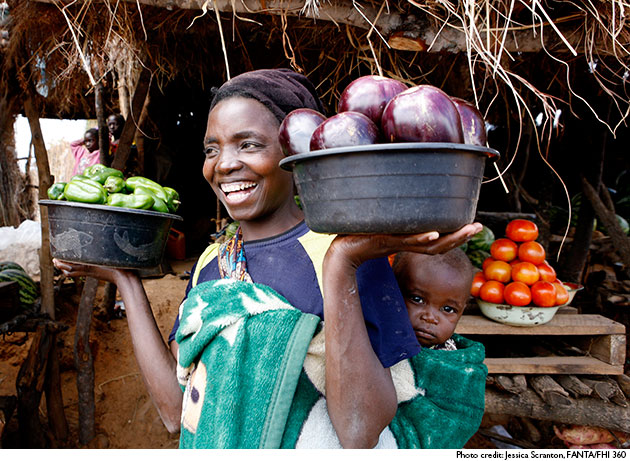 Social and behavior change (SBC) is a critical component in efforts to improve nutrition in a country. For example, in Côte d'Ivoire, chronic malnutrition persists at high levels and the government has prioritized several practices, such as exclusive breastfeeding for 6 months, to help reduce the problem. However, as with all behavior, there are barriers to adopting such practices, which may be due to a lack of knowledge regarding malnutrition or perhaps local traditions that are at odds with the practice. Social and behavior change aims to understand barriers and uses various channels to influence changes. Social and behavior change includes advocacy, social mobilization, and individual behavior change activities, which can range from education to training of health care workers to outreach via mass media.
To help coordinate SBC activities in Côte d'Ivoire, FANTA is providing assistance to develop a national-level SBC strategy to guide the path forward for the different organizations that may be working to promote improved practices. "In each country, we use a systematic process to assess the specific context and determine the most appropriate SBC interventions," said Kavita Sethuraman, technical advisor for maternal and child health and nutrition at FANTA. 
In Côte d'Ivoire, the process began with forming a small, multisectoral working group of national, regional, and local stakeholders to oversee development of an SBC strategy. One of the group's tasks is to identify essential practices that the strategy should include. The group also reviews any SBC-related nutrition strategies, initiatives, and research that are already available in the country to determine whether any of them would be useful for the new SBC effort.
FANTA then facilitates a workshop where the working group and a larger group of stakeholders from various sectors flesh out the strategy. Participants decide on matters such as target audiences (which can be women, husbands, other family members, peers, community leaders, decision makers, etc.), the changes each audience should make, any perceived barriers and enabling factors related to the changes, and communication objectives for each audience. The strategy is drafted through this collaborative process and then refined and reviewed by key stakeholders. Once the strategy is finalized, FANTA works with implementing partners to develop SBC materials that support the strategy. "Our consultative approach with stakeholders encourages transparency and helps make the final product locally owned. This is essential to sustainability," said Sethuraman. 
In addition to its work on the national SBC strategy to improve nutrition in Côte d'Ivoire, FANTA is also helping develop a nutrition SBC strategy in Mozambique. "Each strategy is designed to ensure coordination of SBC in nutrition programming and harmonization of activities, materials, and key content among SBC implementing partners," said Tara Kovach, FANTA's technical advisor for SBC for maternal and child health and nutrition. "Our ultimate goal is to help governments, communities, and families foster social norms that reinforce positive, sustainable nutrition behaviors."