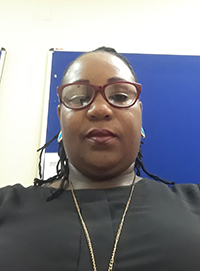 Senior Technical Officer, Public Health
Mozambique
Victória Munheca has over 10 years of experience working at the community level in nutrition, focusing on training community-based workers in identifying signs of malnutrition and treating malnutrition with organizations such as Africare, Health Alliance International, and the UN Food and Agriculture Organization.
Victória, what do you do at FANTA?
My responsibility is providing technical assistance to MISAU (Ministry of Health) in social and behavior change communication (SBCC), infant and young child nutrition (IYCN), and nutrition counseling, as well as technical assistance in reviewing national policies, strategies, guidelines, protocols, and developing technical resource materials, training manuals, curricula, and job aids as needed. I also provide technical support in the drafting, pre-testing, and finalization of nutrition counseling materials.
What has been your proudest moment on the FANTA project?
My proudest moment at FANTA was my participation at the end of the protocol for pre-testing counseling material for adults living with HIV and/or TB. I also worked on the preparation of the counseling material used for counseling PLHIV/TB at the level of health units and community.