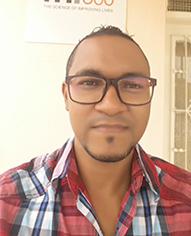 Senior Technical Officer, Nutrition, Nampula
Mozambique
Shamir Carimo has over three years of experience working in health and nutrition at the clinical and community levels in Mozambique. He holds a medical degree from Eduardo Mondlane University.
Shamir, what do you do at FANTA?
I provide technical assistance to health staff so that they can manage and implement the Nutrition Rehabilitation Program in selected districts. This includes nutrition screening, assessment, diagnosis, counseling, treatment, and discharge, as well as supply chain management for nutrition products and accurate recording of the information in the registry books and its submission on a monthly basis.
What has been your proudest moment on the FANTA project?
My proudest moment on the FANTA project was when I started to see close up the results of all the work carried out. I can definitely say that with FANTA's support, it is possible to manage and implement the nutrition program well and prevent and treat acute malnutrition in children and adults.